What is Green Burial?
Many people are going "green" – trying to conserve our planet's resources and natural environment for the next generation. Now there is a growing trend toward green burials, where the body is returned to the earth in a natural state. No chemicals are used to embalm the body and it is laid to rest in a cloth shroud or softwood, biodegradable casket. At Morgan Oaks Eternal Preserve, In Lincoln, Ca, we offer ecologically friendly green burials, including cremation burial.
With a cremation burial, you also can choose an eternal memorial tree, planted on our beautiful natural landscape. This allows your loved one to become one with the environment and offers your family a monument to celebrate and enjoy together for generations.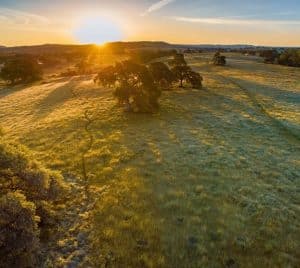 According to Wikipedia, U. S. cemeteries deposit into the ground 827,00 gallons of embalming fluid, 30 million feet of hardwood, 90,000 tons of steel, 2700 tons of copper and bronze and over 1 million tons of concrete each year. Even cremation, although better for the earth than burial, leaves carbon ash that doesn't decompose. We, here at Morgan Oaks Eternal Preserve, are trying to alleviate this impact on our environment by encouraging burials without embalming and striving towards the preservation of our beautiful natural landscape.
Why Choose Green Burial?
Green Burial protects and restores permanent habitat for native plants and animals
Green Burial uses low impact and sustainably harvested materials for burial and rarely requires the need for watering, mowing, or fertilizing
Green Burial wastes less energy and emits less carbon into the atmosphere
Green Burial eliminates the need to embalm bodies with chemicals like formaldehyde
Green Burial prevents toxic chemicals from embalming or casket degradation from contaminating the earth
Green Burial often costs less than a conventional burial since fewer resources such as embalming fluids, concrete or energy are required
Our caring and helpful team, here at Morgan Oaks Eternal Preserve, is standing by If you have questions about Green Burial. Please give us a call at 8336674266 or send us a message here.